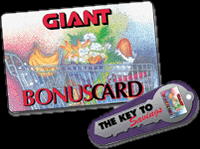 It seems like every retail establishment operating today has a "Bonus" Card. I know people who have entire wallets or key chains dedicated to them. Of course stores call them "Bonus" Cards in order to fool you into thinking that you are in some way special. I suppose I shouldn't knock them totally, I mean you get the "Sale" prices & an occasional coupon here and there. What a deal huh?
The trade-off for taking advantage of their "Bonus" Card is pretty much a measure of your own privacy. You fill out an "application", they assign you a unique barcode, and you shop to your little hearts content. Now lets examine what you generally have given the Retailer…
* Your Name (Application)
* Your Address (Application)
* Your Phone Number (Application)
* Married/Single (Application)
* Number of Children (Application)
* Your age range (Application)
* How often you shop (Scan Data)
* What you buy (Scan Data)
* Coupons you use (Scan Data)
* Money you spend (Scan Data)
* Cash/Check/Charge (Scan Data)
Most of us generally consider this to be a small sacrifice on our part in order for us to take advantage of the "Bonus" buys, and the Retailers are very good about protecting our privacy. It's not like they are out there selling our private information to "Spammers". What they are doing however, is marketing an entire targeted customer base.
Think about it… if you happen to be Proctor and Gamble, and you happen to make Pampers baby diapers. Would you rather send some coupons in the mail to a million houses who may or may not have toddlers or would you rather have a million coupons spit out at the cash register to known mommies? You'd probably pay a retailer a good deal of money to put a $1 off coupon in the hands of folks who are most likely to buy your product! It's a dream come true for the Retailer, they get to "Sell" their customers in a way that doesn't violate the privacy agreement.
Now you might not think this sounds like a bad deal at all but opponents of such things as a National I.D. Card have put together this little Flash Spoof as the future road we could travel in regards to privacy.
Check it out! <---- Click Here