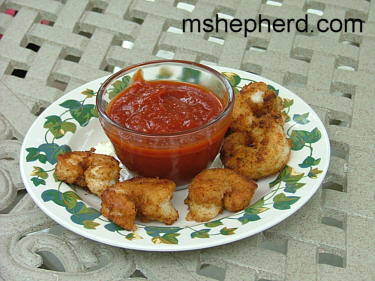 This being the first Summer with our new pool, having guests and barbeque happens quite often at the Shepherd household. I thought I'd share with you an appetizer that my Sister's Husband turned me on to. This wonderful Shrimp dish always gets rave reviews at our cook-outs. I cook them on the side-burner of the grill so they can be done on the stove as well. It takes a bit of "prep-time" so here is how it works…
1. Fresh shrimp, good sized at least U-15's
2. Remove shell and tails, just the meat left.
3. "Butter-Fly" them by using a serrated knife and cutting along their back.
4. De-Vein them.
5. Squeeze the juice from a lemon over them.
6. Let sit for several minutes.
7. Whip up 1 egg in a bowl.
8. Fill another bowl with Progresso Breadcrumbs.
9. using tongs, dip each shrimp in the egg, then roll in the breadcrumbs.
10. Fill a pan with 1/2 inch of Olive Oil
11. Cook on medium heat each side till golden brown.
Yummy I tell you! They are great with cocktail sauce and stick a toothpick in each one for easy handling!