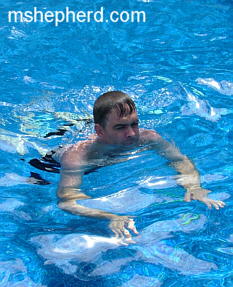 With temperatures in the 80's & 90's this past week, our pool has warmed very nicely to almost bathtub-like water. We are thrilled to finally have something fun to do on those sweltering hot summer days that would otherwise be spent hibernating indoors with the A/C turned up full blast!
Sharing some pix and a vid…
pic-1 Erick's getting big!
pic-2 Mark with Pool Noodle
pic-3 Tim learning to dog paddle
pic-4 I'm trying to teach Tim to float
vid Everyone "having fun"