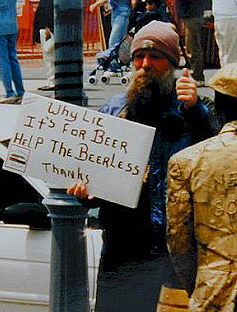 Here is a link to a News Story video for you, Click Here. The whole gist of it was a reporter went out and offered a bunch of guys panhandling $20 if they would do an hours worth of manual labor and all but one refused.
This story reminded me of a time about 15 years ago when I managed a store in Santa Barbara, Ca. A group of pan-handlers "worked" the intersection out front and when they had accumulated enough money, they would come into my store and buy the cheapest jug of wine I sold and a pack of cigarettes. They would then return to their "Camp" located in a field behind my store and drink until they passed out. Eventually, they would wake up and do it all over again. I remember thinking to myself what a sad existence this must be.
More recently, when I worked at the Mall in Frederick, Md. The very busy intersection on my way home one day yielded a man holding a sign that said…"Traveling disabled Veteran, Please Help". The fella must have took a respite from his road trip because I saw him regularly for the next two years. A quick chat with the clerk at the Convenience Store at the intersection confirmed my suspicions… beer, smokes & drugs.
Now I'm not doing that "EVIL-STEREOTYPING" that I'm sure has popped into your head by now, I'm sure there are plenty of legitimate cases. All I'm saying is that when I give charity, I don't wish to support an individual's debilitating habit. I remember a time in my life when approaching the entrance to a grocery store and spying the Salvation Army bell-ringer, I felt awkward and wanted to walk by this individual as quickly as possible with my head down… Just someone else asking for a hand-out. Life experience has taught me differently now and I don't hesitate to drop what can in the bucket because I feel good that my donation is going to folks who have a real need.
End of Rant
/Rant