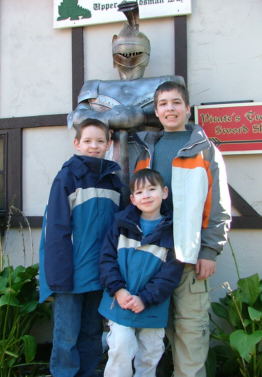 The Shepherd's love anything medieval. Hence, for the last few years, we've made our annual pilgrimage to the Pennsylvania Renaissance Festival. It's funny, I've tried my boys in Baseball & Soccer but they found their true love in Fencing. Swordfighting is where it's at for them!
The first time we went to a "RennFest" we were quite impressed. A theme park if you will set in a 17th Century style. All the shopkeepers & attendants are in the "dress of the time", even a lot of the attendees chose to dress for the occasion. Oh, and everyone speaks the lingo to create the atmosphere. For example, one would hear "M'Lord" or "M'Lady" when being addressed. "Tis" & "Thee" are quite often on the menu as well.
There are shops galore selling novelties and trinkets of the time. Artisans splattered everwhere performing their craft. We saw people making hand-blown glass, operating an old fashioned printing press, a Fletcher making bows & arrows, a fella linking chain mail, actors performing Shakespeare & dozens of musicians playing instruments of the time.
I didn't get as many pictures as I would have liked but here are a few that I will share…
We stopped to see a couple of Jesters (Fools) do a show. This is too funny, check out the expression on Erick's face as this gal gets cozy with him!!
These two were so funny! Wendy was literally in tears.
After the show got going, I think Erick decided she wasn't all that bad!
Markie decided he was going to check out a hat of the time.